SHOW YOUR SUPPORT FOR SB725 AND SB326 TO PROHIBIT PRIVATE FUNDING OF ELECTION ADMINISTRATION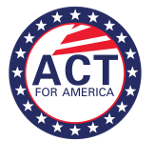 This may be one of the most consequential election integrity bills now going through the North Carolina  Senate. 

SB 725 will prevent the controversial private funding of election administration which was used in the 2020 Presidential election. This private funding was pioneered by Facebook founder and CEO Mark Zuckerberg and his wife Pricilla Chan through $350 million in donations to nonprofit Center for Technology and Civic Life, which played a key role in five key battleground states: Georgia, Arizona, Wisconsin, Michigan and Pennsylvania.

In addition, ACT for America is also supporting SB 326 which would move North Carolina back to the standard previously used; that all voters are responsible for getting their ballots submitted to election officials by election day. This would end county boards of elections dependence on postmarks, which are often absent or illegible, and eliminate confusion we often have about whether an absentee ballot has been legally voted.

Please contact your State Senator and tell them to vote to pass SB 725 and SB 326.

Click here to email and phone your State Senator's office.