Dear CCTA Members and Friends,
Hal and I spent an interesting day yesterday in the midst of fascinating people and events. To jump to the bottom line, the day went well for shrimpers, fishermen, and those of us who enjoy fresh, succulent, wholesome, locally caught shrimp and seafood, but the last shoe has not fallen yet.
We parked in Union Point Park about 10 a.m. and walked to the point where there was a collection of people. Some were talking to each other. Some were walking dogs. Some (including Jerry Schill, President of the North Carolina Fisheries Association) were being interviewed by TV personalities. All were noticing the flotilla of work boats at anchor off the point. One young man was painting a lovely picture of one of the boats. The atmosphere was electric.
We walked under the bridge to the New Bern Convention Center in time for the prayer meeting and pep talk at 11 a.m. led by Jerry. A minister, a marine biologist, some fishermen, and a member of the North Carolina House (Michael Speciale) were among the people who led us in prayer. Jerry closed out the meeting by encouraging folks to be energetic and forceful in their remarks, but to remain respectful and polite.
The main feature of the day, the meeting conducted by 5 advisory committees to the North Carolina Marine Fisheries Commission started a few minutes late, but it was well conducted. They first heard a presentation on the petition that has been put forward on behalf of the North Carolina Wildlife Federation. (I have to 'fess up that I had some very sarcastic thoughts chase themselves through my head while this was going on.)
Next, members of the Committees had the opportunity to ask questions and make statements about the petition, its intended consequences, and its perhaps un-intended consequences. (I began to feel better while this was going on.)
That was followed by a presentation by people representing the state's current program under its fisheries management plan noting their successes to date in working with industry members to achieve finfish bycatch reduction, and making observations about differences in how they're proceeding now, and what the process would be like if the petition were approved.
After that, 3 people representing the North Carolina Fisheries Association, Jerry Schill, Jess Hawkins (a retired marine biologist who worked for the NC Department of Fisheries for years), and another marine biologist whose name I didn't catch (which is a shame because he expressed himself very well) made presentations to counter the petition and ask that it be denied. I came to the conclusion while these gentlemen were talking that the petitioners and their aiders and abettors should be ashamed of themselves.
Following that, the meeting was opened to allow each person who had signed up to do so, to speak for or against approving the petition. What emerged was truly amazing. Fishermen and women have a rather solitary job, but can they ever express themselves well. It was clear that some of them were not accustomed to public speaking, but even those folks were logical, plain spoken, and heartfelt.
People on the periphery of the shrimping/fishing industry did well, too. From seafood distributors, to people dealing with tourists, to those of us who represent masses of North Carolinians who want to eat fresh North Carolina seafood and don't fish, each added something of value to the conversation. One man was a complete surprise. He was a professor at East Carolina University who had a doctoral student do her thesis on exactly the subject of the petition. The thesis has been peer-reviewed and published. I gather much of it refutes assertions made by the petitioners. The professor summarized differences and presented a bound tome to the person chairing the meeting. It will be presented to the Commission.
At yesterday morning's Craven County Board of Commissioners' meeting, our Commissioners passed a resolution urging denial of the petition. At the request of our Commissioners, Hal presented that when he had an opportunity to speak. (Isn't it nice to feel in concert with our Commissioners for a change?) Several other counties presented similar resolutions.
There were a handful of people who spoke for the petition.
At about 6:45 p.m., the chairman cut off the speakers. (There were still about 60 people who wished to speak.) He said they had the room for a limited amount of time, and he wanted each of the 5 advisory committees to have an opportunity to vote on whether to recommend approval of the petition to the Commission before they needed to vacate the premises.
Each of the 5 committees held meetings in succession. The Northern Advisory Committee voted to recommend the petition be denied by a vote of 9 to 1. The Shell Fish and Crustacean Advisory Committee voted to recommend petition denial by 8 to 1. The Finfish Advisory Committee voted to recommend denial by 7 to 1 with one person not voting. The Southern Advisory Committee voted for denial by 6 to 0 with one person not voting. The Habitat and Water Quality Advisory Committee voted for denial by 7 to 1 with one person not voting.
Some of the people on the committees are also on the Commission. We talked to people who know the "cast of characters" pretty well and were told that 2 committee people who did not vote are on the Commission, 1 who voted for denial is on the Commission, and 2 who voted for approval of the petition are on the Commission. Also, 6 of the people who are working on the current management program to reduce finfish bycatch are on the Commission. (That management program is going great, by the way. They were asked to set a 40% reduction in bycatch as a goal, and they are currently achieving a reduction that ranges from 45% to 55%!)
Many CCTA members and friends were there. Eddella Johnson, Kim and Glenn Fink, Marilyn Fink, Gladys and Ed Suessle, Don Murdoch, Howard and Patsy Garner, Ron Cherry, Mary Griswold, Bob Stash, Katherine Wyatt, Lucy Dicktel, Kathy New, Ann and Will Bowman, and Jeff Aydelette to name a few. Several of us spoke. Several more signed up to speak, but had to leave to prepare for our CCTA meeting that evening, or were among the 60 people denied the opportunity because of time constraints. (Kim was one of these, and it's a darned shame because she always expresses ideas so well.)
So, as we began, here we are again. It went well because good folks showed up and did their best. However, the last shoe has not fallen. The North Carolina Marine Fisheries Commission will assemble in Wilmington on February 15, and it is at that meeting they'll vote for approval or denial of the petition.
We still have a couple of days (until 5 p.m. on 1-20-17) to send written comments to the Marine Fisheries Commission. Write to NCWFPetition@ncdenr.gov. (I plan to take a couple of minutes to drop them a short, clear note. I hope you will, too.)
Hal and I are really sorry we missed the CCTA meeting last night. The meeting at the Convention Center didn't end until after our meeting had started, and for once, Hal and I just ran out of steam – all the go had gone!
Sincerely,

Hal & Raynor James
Boats draw interest at Union Point Park
Work boats anchored off Union Point 1-17-17
"Papa's Girl" draws attention at Union Point, New Bern
  The folks, the boats, and TV people at Union Point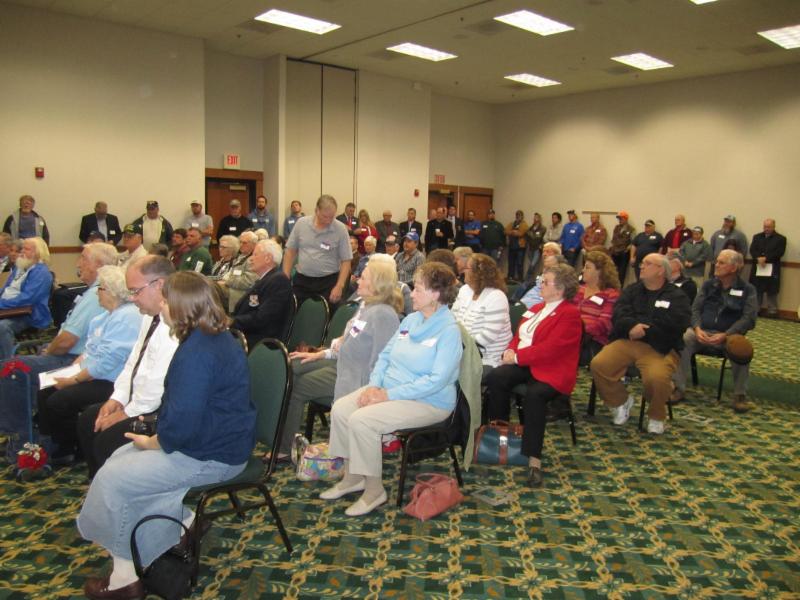 Gathering for prayer meeting…
Row 1, 3rd and 4th people in, Peggy & Howard Garner
Row 2, Eddella Johnson, Mary Griswold, Hal James
Row 3, Kathy New, Hazel Speciale, Glenn Fink (standing)

Right side of room at Public meeting on NC Wildlife proposed petition…
Right foreground, Will Bowman, Ann Bowman, Mary Griswold, and Eddella Johnson

Left side of room during public meeting on Petition…
Foreground, Katherine Wyatt and Don Murdoch